New year, new look
Three months since I last vented, but no lack of activity, not least, as you may have noticed, a revamp of this website, thanks to Amy. Hope you like it. Spread the word
2018 was a great year for us. Here is our holiday letter, for those who did not receive it already (or ignored it).
We are so lucky to have great families (albeit a bit spread out), all healthy and doing well. It would take too long to brag on all the talents and achievements. We managed to get to see everyone before Christmas.
We had a lovely visit with the special Cotton and Richardson families in England, including the traditional pantomime.
"Panto" is a bizarre British classic, described (edited) by wikipedia: a stage production designed for family entertainment, including songs, gags, slapstick comedy and dancing. It employs gender-crossing actors and combines topical humour with a story more or less based on a well-known fairy tale or fable, like "Jack and the Beanstalk". The audience is expected to sing along and shout out phrases to the performers, like "Look behind you!"when the villain appears. "Oh yes we did!" Always fun
We had a special meetup with the Bakers (including the great-grandchildren!) in Myrtle Beach, and then Christmas Day in Augusta with the Bowdens/Fletchers. Thank y'all.
Back to Dewees for our usual New Years eve party. We always cheat by celebrating the arrival of the new year on British time (with fireworks on TV), not least so as not to be too tired to host our now traditional New Years dinner for about 35 Deweesian friends. Tenderloin, tendered by Jim and Anne.
Must have collard greens (thank you, Tripp) for wealth, and black-eyed peas for health. We ate lots!
We have mostly been tending home fires in January, but I enjoyed a quick trip to Orlando, where Rob had generously arranged a reunion golf match with two of our old Olympus friends (Haru and Hiroshi), now retired. We had together played the "Japan-America cup" at Grand Cypress every January for 15 years, up until 2011. Happy to say USA was successful in the rematch 8 years later, although the competition was curtailed by rain.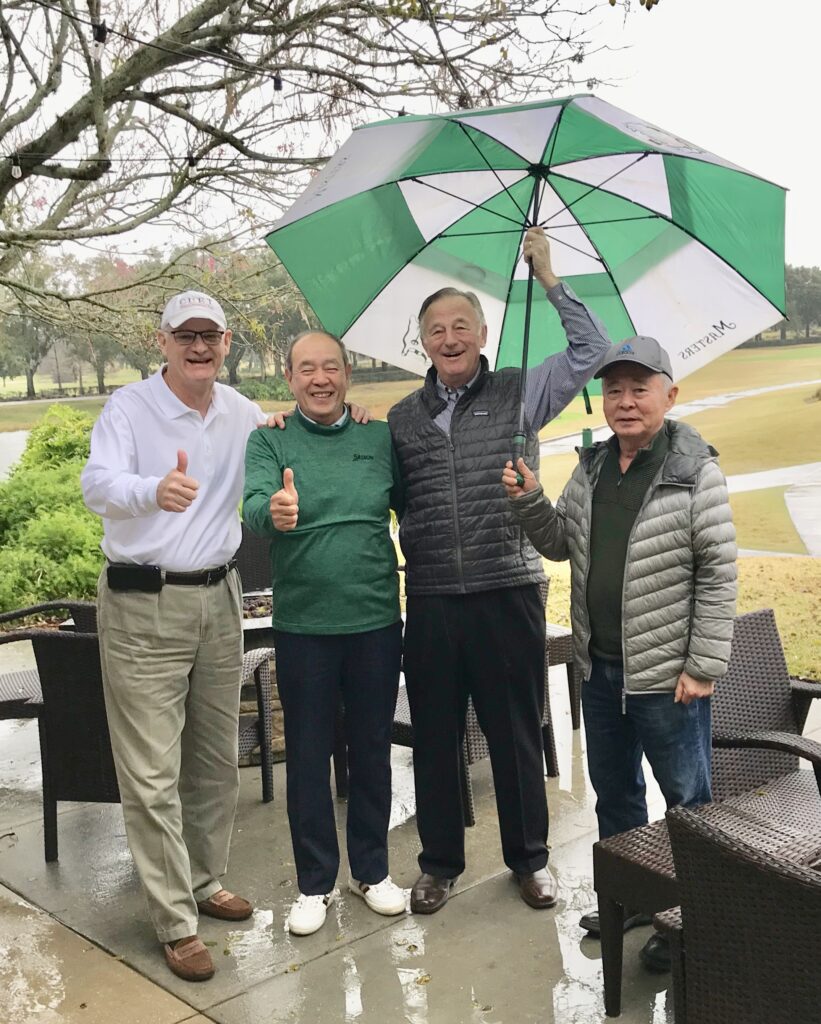 February fun so far has included a Valentine's day dinner on Dewees, where the men did the cooking, and, less fun, finalizing my latest application to the National Institutes of Health for funding research into gallbladder "dysfunction".
Tomorrow we leave for Australia and New Zealand again, to catch up with many special friends, check out some fairways (and vineyards), and do a little work.
Hopefully spring will have starting blooming when we get back, and then there is the Masters….
Bestest wishes to anyone out there……